eConsult
Extended access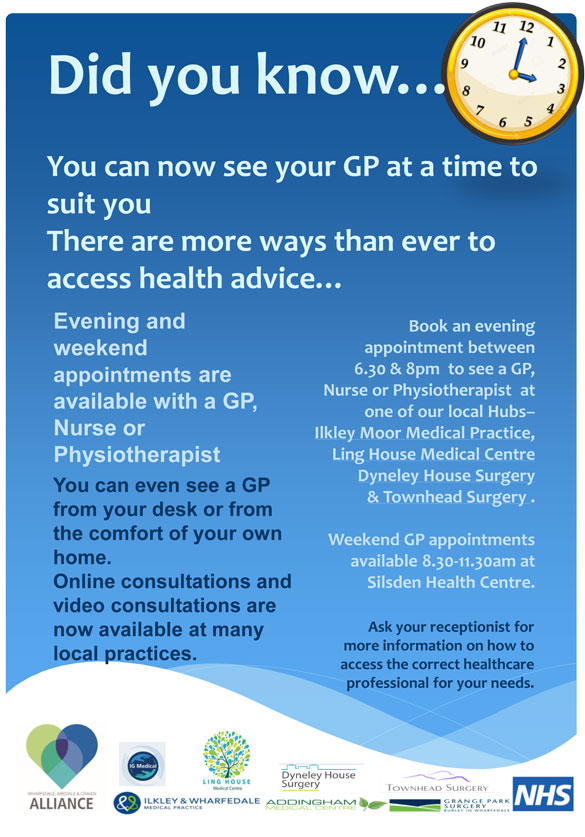 FLU & SHINGLES VACCINATIONS
Are you eligible for the free flu jab?
If so we have reserved you a flu vaccine and would like you to attend one of our drop in clinics on:
Saturday 21st September 2019 (over 65s ONLY), 08:30am to 11:30am
Saturday 12th October 2019 (over and under 65s), 08:30am to 11:30am.
To minimise waiting time we would appreciate you wearing a short sleeved/loose top when attending.
Please telephone the surgery if you do not wish to have the vaccination so we can record your dissent.
For further information please click the link below:
Not eligible for the free flu jab?
The flu vaccination is available for all however it is only free on the NHS if you are over the age of 65, have a qualifying chronic medical condition or are a healthy child between the age of 2-3 years. If you do not fall into any of these categories you can still have the vaccination privately. There is a small charge of £10.00 to cover the cost of the vaccination and the time taken to administer it. Please contact reception for further information.
Shingles Vaccination
If you are aged 70 or 78 years of age between 1st September 2019 and 31st August 2020 you will receive a letter from the practice inviting you to have the shingles vaccine. Please contact Reception to arrange an appointment.
For further reading, please click the link below:
Sign up for Online Services
Appointment, Prescription Requests and Access to your GP Record
The Practice provides an on-line booking service for appointments, ordering repeat prescriptions and accessing your summary medical record. This is designed to help those patients who have difficulty in contacting the surgery during normal surgery hours. The electronic service is called "SystmOnline".
CARE NAVIGATION
The right care from the right person, first time
When you ring to book an appointment, you might notice our reception team will ask you for a brief outline of how we can help you.
This is because we have introduced something called Care Navigation. It means our reception team has been trained to ensure they can help you to find the best service for your needs, so you can receive the right care more quickly. Anything you share with our team will be kept confidential.
Through this specialist training, our team will be able to direct you to the most appropriate clinician or service for your needs.